LISTENING TO KATRINA
PAGES IN THIS BLOG ARE RATED 'R' AND DO CONTAIN PROFANITY, VULGARITY, GRAPHIC VIOLENCE, NUDITY,
SCENES OF HUMAN EMOTION, DEATH, DESTRUCTION, MAYHEM, AND VARIOUS INDESCRIBABLE HORRORS.
EVENT - The Battle of New Orleans
Timeline: Monday, August 29, 2005, 5:00 AM CDT
Location: Mister Go, aka MRGO, aka Mississippi River Gulf Outlet
I was terribly tempted to detail very meticulously each event of the storm. This has been done in so many places, though, that I thought it redundant and not of value in our context. Let's hit some highlights and leave it at that. If you want more detail, it is available many places on the internet. For us it is enough to say that Hurricane Katrina developed a storm surge as high as 25 feet or more and detail only those events that are broadly relevant. This is the last page upon which I will use this format. I want to get into the analysis without wasting too much time on things people already know. I am going to make this as easy as possible.
As Katrina rolled in, the entirety of the extreme southeastern tip of Louisiana was inundated with water. Water rushed inland along the entire Gulf Coast, and in particular Mississippi and Alabama.
As we have discussed, New Orleans' particular topography made it very vulnerable, and the insufficiencies of the levees proved especially fatal.
It should be noted that for every foot of levee that failed in New Orleans, there are miles of levee that did not. Failures, however, are the engine of disaster. The Titanic sank from a few holes, not because the entire side of the ship came away. Rather than spend too much time detailing the breaches, let's just go through them briefly so that we can understand the situation as it develops - and will continue to develop over the next few days.
It is important to understand that the primary method of Katrina's destruction is storm surge and not wind and rain. While wind and rain are contributing factors - insult to injury, if you will - the surge itself is what destroys the levees and causes most of the flooding.
Mississippi and Alabama are nailed by the wind and ran, and Mississippi experiences some of the highest storm surge on record. Only New Orleans, however, has a topography ripe for disaster.
In Louisiana, the storm surge comes through Lake Borgne and also (as predicted for so many years) blasts through the MRGO, blowing out the levee for over ninety percent of its length. St. Bernard parish - the entire parish - will soon be under several feet of water - and that level will continue to rise. Some eyewitness accounts document a wall of water 14 feet high (some say higher) that flowed down Paris Road, a main thoroughfare. The east bank of Plaquemines parish, and large portions of the west bank are also shortly to be inundated with water. In many areas this flooding has already begun.
The timeline for St. Bernard Parish and Plaquemines Parish is difficult to state accurately. The people who survived are fighting for their lives, and being in mortal terror doesn't put one in the mood to take good notes. The initial surge over-tops or blows through three of the four major levee systems protecting St. Bernard Parish in multiple locations. The fourth fails at some later point. The occupants of St. Rita's nursing home in Chalmette, which was not evacuated, hear a rumbling sound just before the building is rocked by the wave. The exterior quickly floods to the roof line. Water pouring in through the vents rapidly fills the building. Twenty-five of sixty patients are initially saved. Five of these die soon after. In Meraux, storage tanks at the Murphy Oil refinery rupture, spilling 1.1 million gallons of oil.
The surge is concentrated by a natural funnel which connects several waterways from both lakes that intersect the 5.5-mile Industrial Canal (the Inner Harbor Navigation Canal) which links Lake Pontchartrain with the Mississippi River. The surge builds in the Industrial Canal, smashes into the closed gates of the lock, rises in the canal, and over-tops the levee.
Flooding begins on both sides of the canal. Several pumps fail as the power goes out and water intrudes into unprotected equipment. The requested improvements that would have supplied generator power and protection from water intrusion were never funded. Even if the pumps had remained at full capacity, it is doubtful that they would have been able to keep up once the levees failed in earnest.
At the north end of the canal, a power station floods, I-10 begins to take water, and at least one barge comes loose from its moorings. The lights have started to go out.
Just south of I-10 the CSX railroad floodgates, damaged by a derailment, are not functional. The sandbags used to close the gap quickly fail and the first breach into Orleans Parish occurs close to 5:00 AM. Water flows into Gentilly and East New Orleans, worsening the existing flooding. Farther south, another flood wall fails in several places.
When 155 feet of the eastern flood wall fails just below the Florida Avenue bridge, water begins pouring into the Lower Ninth Ward. On the other side of the canal, the Florida Avenue Pumping Station loses the battle against the water overtopping the levee and fails.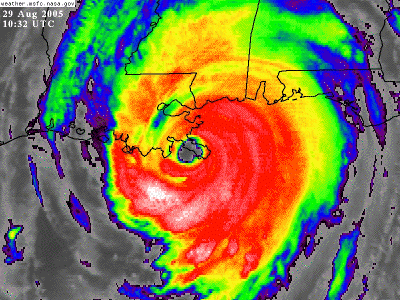 As Katrina's fury increases, WWL-TV continues to broadcast. The station began 24-hour coverage on Saturday, and evacuated its New Orleans Studio to the LSU Journalism School in Baton Rouge. Transmitters in Gretna and in Baton Rouge continue the broadcast. MacGyver-like technicians kluge together a satellite link to stream the program. The staff maintains nearly continuous broadcasting for nine days.
WWL 870 AM radio's staff also performs a heroic public service as it has done many times in the past. The station manages to continuously broadcast and provide internet streams. These are not government employees. These are people who continued to do their job even though they did not have to, and at great personal risk. They are true heroes, and their service meant a
lot
to those displaced by the storm and to those marooned in their own homes as the storm raged and water rose. For many days, these stations were
the
source for information.
Timeline: Monday, August 29, 2005, ~7:00 AM CDT
Mayor Nagin calls i
n to WWL
radio and reports breaches i
n
the Industrial Canal floodwall into the Ninth Ward, and that some flooding has occurred to the east as well. He reports that the Florida Avenue pumping station has failed, and that he has reports of people trapped on roofs. 911 i
s inoperative.
Charity Hospital is losing windows and is on emergency power. His voice is edgy. He sounds a little lost.
The Superdome goes dark just after 7:00 AM.
Timeline: Monday, August 29, 2005, ~7:45 AM CDT
A catastrophic failure of another 800 foot section section of the Industrial Canal sends a wave of water into the Lower Ninth Ward. Many houses are pushed and floated off their foundations and some are moved hundreds of yards. A 195 foot oil barge, loose from its moorings, floats into the Lower Ninth Ward.
The flooding of New Orleans is now well under way. Thousands are trapped. Hundreds are dying.
Timeline: Monday, August 29, 2005, ~8:30 AM CDT
Jackson Barracks, the Louisiana National Guard headquarters, begins to take water. In spite of the fact that this area is known to flood - being at the southeast end of the Lower Ninth Ward - guard troops have been staged here for post-storm response. As the buildings fill up with water, the troops are forced to save themselves. Trucks are lost and communications equipment is destroyed. This causes at least a 24 hour response delay after the storm passed. Some of these Guard troops go to the Superdome, which helps to increase the government presence there.
Water has been flowing backwards through the pumping stations on Lake Pontchartrain into Jefferson Parish. The pump operators have been evacuated and the pumps abandoned. The valves were either left open or failed to close automatically depending on which story you believe. Jefferson Parish President Aaron Broussard later claims that, "There is no evidence that the pumps being off caused any flooding."

This image, taken Monday morning provides that proof as it documents water flowing backwards through the open gates.
The floodwall atop the 17th Street Canal levee begins to fail on the north side. Many people have seen the resulting images, but this image has not been made public until now. It is an image taken just a few hours after the breach, when Katrina's winds subside enough to venture out. You can see that the initial breach is very small, but it will grow much larger in the coming hours.
If you examine the image closely, you can see that the flood wall is literally pushed straight back, causing the separation. At no time were these flood walls over-topped. The high water mark is 25 inches from the top of the wall. (As I measured it later.)


A very interesting video became available ten months after the storm, showing the breach in progress. I have embedded it into this page, and I encourage you to watch it.
Timeline: Monday, August 29, 2005, ~9:00 AM CDT
Near the breach in the 17th street canal, water reaches high enough on a wall to stop a battery powered wall clock at 8:57 AM.
Mr. President issues a "
Statement on Federal Disaster Assistance for Louisiana.
" that now includes the southern parishes.
Reports that the Lower Ninth Ward is under 8 feet of water are confirmed. Water tops a floodwall near Lakefront Airport and more flooding occurs west of the Industrial Canal.
The storm surge peaks in southeast Louisiana.
Timeline: Monday, August 29, 2005, ~9:09 AM CDT
The Superdome roof begins losing the battle against Katrina. Most of the roof's membrane covering has been peeled away, and rain is coming in through holes in the 'dome' of the roof. There is no structural damage, but the frightened people inside - in the dark - have no way to know this.
In 2001, levee improvements and a new floodwall were completed on the London Avenue Canal.
Timeline: Monday, August 29, 2005, ~9:30 AM CDT
The eastern wall of the London Avenue Canal fails near Mirabeau Road. The huge concrete walls separate and snap off their supports. Reinforced earthen levees move under the force of water. Block by block, water rises to the roofline.
Timeline: Monday, August 29, 2005, ~9:40 AM CDT
WWL TV reports the failure of the Industrial Canal levee at Tennessee street. Up to eight feet of water is expected in adjoining areas. This shows that reports of actual events are not being communicated until hours after they occur.
Timeline: Monday, August 29, 2005, ~10:00 AM CDT
The eye of Katrina crosses New Orleans and the winds shift to the west. The surge begins to recede in the canals and southern bayous, but begins to rise in Lake Pontchartrain. The I-10 'Twin Span' bridge between New Orleans and Slidell becomes a casualty of wind and waves as concrete slabs are lifted from the bridge foundations and dropped into the water.
At least one person is stranded on the bridge at this time as the bridge disintegrates around them. One lucky person is rescued days later and treated for dehydration.
He does not have clean underwear.
The New Orleans Yacht Club and Marina, on the north end of the 17th Street Canal at Lake Pontchartrain is destroyed by wave action. Buildings on the lake front (not protected by the levees) are all destroyed. Among them was Sidmar's - one of my favorite restaurants.
Timeline: Monday, August 29, 2005, 10:12 AM CDT
Marty Bahamonde reports to Michael Heath who reports to Michael Brown:
* Severe flooding on the St. Bernard/Orleans parish line. Police report water level up to second floor of two story houses. People are trapped in attics.
*Pumps starting to fail. The city has now confirmed four pumps are off line.
*Windows and parts of the east side of the Amoco Building blown out.
*New Orleans shopping center (next to superdome) destroyed.
*Windows and parts of the East side of the Hyatt Hotel have been blown out. Furniture is blowing out of the hotel.
*Top floors of the Entergy building have been blown out
*Area around the Superdome is beginning to flood.
Timeline: Monday, August 29, 2005, ~10:13 AM CDT
"Katrina Spot Report" inside the White House Homeland Security Council notes, "Flooding is significant throughout the region and a levee in New Orleans has reportedly been breached sending 6-8 feet of water throughout the 9th ward area of the city." This is hard proof of exactly when the White House understood the conditions unfolding in New Orleans.
The west side of the London Avenue Canal fails at about this time as well, but in a much more catastrophic way. A wave of water flows through the adjoining neighborhood. City Park - one of the lowest areas - begins to fill with water.
Timeline: Monday, August 29, 2005, ~11:00 AM CDT
They eye is now 35 miles east of New Orleans. Interstate 10 near the Industrial Canal is flooded and impassable. Power is out across the region. Communications are down. Water pressure falls, and tap water becomes unsafe to drink. What little remains of the New Orleans Yacht Club is on fire.
In Mississippi, on the stronger side of the eye, neighborhoods for more than a mile inland are completely erased. Eighty percent of the city of Biloxi is destroyed. Keesler Air Force base is unserviceable.
In Mississippi and Louisiana, many areas that were once dry land are now open water. Reports begin to come out of people trapped on rooftops. Coast Guard Vice Admiral Thad Allen gives orders to begin rescue operations.
Mike Brown sends Mike Chertoff a memo requesting 1,000 rescue workers within 48 hours, and 2,000 more within seven days. He proposes sending these for training in Georgia or Florida, and then into the disaster area when "conditions are safe". Among the duties these people will undertake, he lists, "to convey a positive image of disaster operations to government officials, community organizations and the general public."
Timeline: Monday, August 29, 2005, ~11:56 AM CDT
Marty Bahamonde reports that the New Orleans Fire Department reports that there is a 20 foot wide breach at the 17th street canal. This report is three hours after the fact - which is actually pretty good.
As the storm passes, it seems as though New Orleans has 'dodged the bullet', and that the Mississippi Gulf Coast took the fatal round right in the heart. This viewpoint, however, is one taken from people who are in areas that aren't flooding and haven't received much damage. The extent of the damage to outlying areas is unknown because no reports are coming from those areas.
In many areas the water is rising. Slowly at first, but in 24 more hours some streets that are dry now will be covered in 8 feet of water.
It's coming up on lunch time now, and I want to finish this page with a little editorial.
This is a picture of the Lower Ninth Ward. The view is facing west. The Mississippi river can be seen in the upper left corner. The flooding from the breaches in the London Avenue Canal is quite apparent.
Those who are familiar with aircraft will immediately know that this image is not from 2005. It is from 1964, and the flooding is courtesy of Hurricane Betsy. Forty one years ago, the same areas of the city that were underwater in 1964 are under water again. Anyone who stayed in these areas when Hurricane Katrina came knocking obviously lacked a CLUE.
In 1964, there was a very common scenario that played out in many homes. Water floods the street and quickly begins to rise. There is no escape because the water is moving fast. As the water rises it slows down, but now it is too deep to allow escape. Water is coming into the house. In order to escape the rising water, people climb atop beds, tables, and dressers. The water knows no mercy, however, and continues to rise. People swim to a small hatch in the ceiling and they escape into the attic where they are safe, high, and dry - until the water comes looking for them.
They think that it will not get much deeper, but the water comes up for them. Some manage to kick their way out of the roof. Others manage to find some object to make an escape hole with. Some people breathe their last breath with their faces pressed into the peak of their roof. Others do not drown immediately and are trapped for days without food or water.
After Betsy, the stories were passed around and ever since then if you go into any attic in New Orleans you will find an axe or a hatchet.
You will find one in mine.
We all laugh about this, but it is a grim laughter.
Yes, the levees and flood walls were newer, higher, and stronger - but knowing all of the history, why would anybody stay in an area that everyone knows is especially vulnerable as danger approaches?
Why?
LAZY PEOPLE DO NOT PROSPER!
As proof, I offer you this image:
There is a major hurricane on a collision course with your house. If your strategy is to have no food and no water in the house with three women, three children, and a 9 month old baby then you really need to work on that.
We'll come back and check on these folks later. For now, though, it is Monday, August 29, 2005, 12:00 NOON CDT. It's time for lunch. After lunch, we'll do a little analysis. For now, though, I'm going to pack the family up and find a burger joint or something and be very thankful that I'm not sitting on a rooftop somewhere surrounded by water.